SUSTAINABILITY IS TEAMWORK
Together with nine clubs we are setting an example for a more sustainable future. Under the motto "Our Team for a better World", the teams will play one match day each in special sustainable jerseys made from recycled textiles.
THIS IS WHAT IS BEHIND "our team for a better world"
From recycled polyester jerseys to social projects along the supply chain, we tell you how our partners and we are making the world more sustainable every day. Click on the individual stories and discover what "Our Team for a better World" is all about.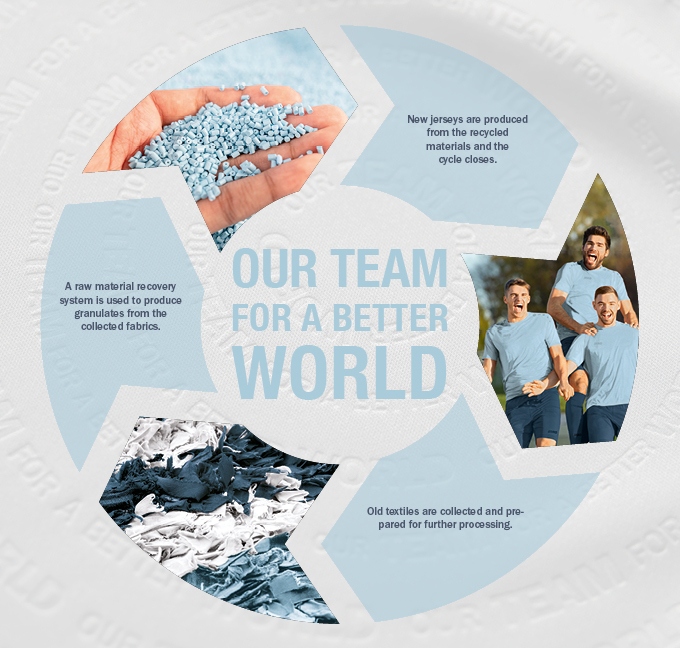 Turn old into new!
With our jersey WORLD we start into the circular economy of textiles. A new jersey is created from used clothing.
One problem in the textile industry is that worn clothing is usually thrown away at the end of its life cycle. So even if a jersey is worn for several seasons or, in the best case, donated, it usually ends up in the trash at the end of its life cycle. We want to break this cycle.
The jersey World is the first jersey that consists of recycled textiles and not recycled bottles. The cycle that this closes is to be refined even further in the future. We no longer want to use just any textiles, but discarded JAKO jerseys.  These will then be used to make new jerseys. The challenges are that, for example, the club crest or sponsor logo must also be recyclable. 
Your jersey WORLD for a good cause
With our jersey WORLD, we not only want to act in a resource-saving way and use recycled textiles, but also fulfill our social responsibility. True to our motto "Our Team for a better World", we have decided to support the Duc Quang Shelter orphanage with part of the jersey proceeds.
Currently, 120 children live there, from babies to teenagers under 18. The financial donation is used to provide the children with three meals a day, snacks and drinks.
The orphanage is located in the vicinity of a long-standing supplier in Vietnam, who coordinates the support on site. Together with him, we produce the WORLD jersey and the matching sports pants.
"Gruewiss" on and off the pitch
FC St. Gallen will be wearing a special sustainable jersey, the WOLRD jersey, in its home match against FC Sion on March 6. From the proceeds of the jerseys, FC St. Gallen donates a symbolic 18.79% per sold jersey to the mountain forest project in Grabs. This is not only in the spirit of the "Our Team for a better World" campaign, but also fits seamlessly into the FCSG credos of "Grüewiss im Herz" and "a city and a whole region" strategy.
The Mountain Forest Project supports the local forestry service in protection forest maintenance and the promotion of biodiversity in the forest. The plantings are intended to help the forest become a mixed forest again, where there is no longer only spruce in the majority. The local community of Grabs is the largest forest owner in the canton of St. Gallen.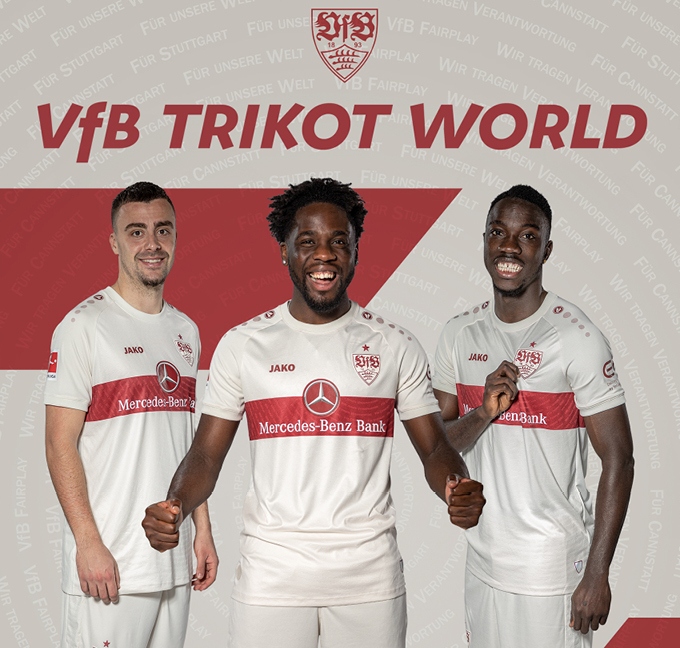 One newly planted tree per jersey
VfB Stuttgart will be playing against Borussia Mönchengladbach in a special sustainable jersey, the Trikot WORLD. For every special jersey sold, VfB will donate five euros to Naturschutzbund Deutschland e.V., which implements tree planting campaigns with its local partner Cranes Conservation Volunteers. With its contribution, VfB supports climate protection measures at the Setima Escarpment at Lake Ol'Bolossat in Kenya, a nature reserve with a special biological diversity. At the same time, the region is under high utilization pressure.
Using an NFC chip integrated into the special jersey, fans can track the growth of their own tree via a treetracker app once it has been planted.
WE TAKE RESPONSIBILITY
As a member of the following three initiatives we are actively committed to sustainability. Ambitious goals and concrete measures build our guidelines for the following years. Find out now what is behind the initiatives and join us on the way to a more sustainable future!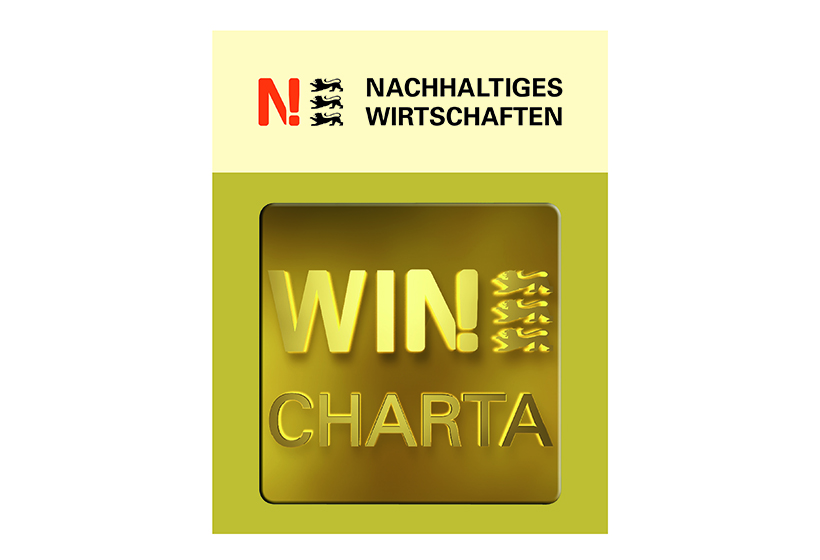 WIN-Charta
In 2021 we joined the Sustainability Business Initiative (WIN) of the state of Baden-Württemberg. In a target concept we have defined how we understand the topic of sustainability in the company and which targets and measures we would like to implement.
More Infos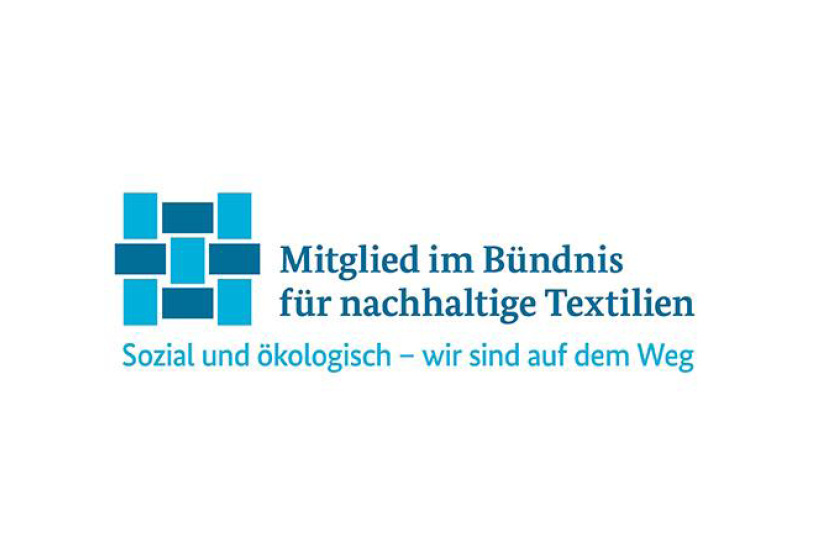 Partnership for Sustainable Textiles
We have been a member of this textile alliance since 2016. The objective is to improve the social, economic and ecological conditions of textile production worldwide together with other companies, associations and political organizations.
More Infos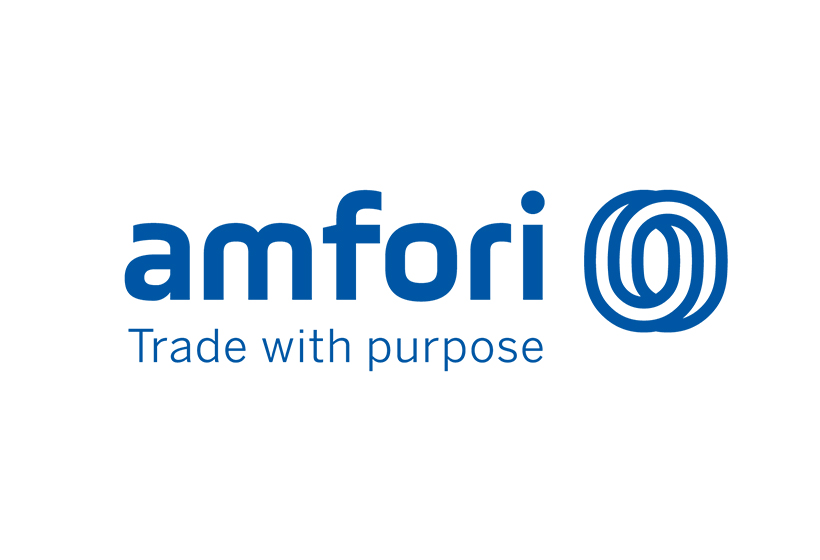 amfori BSCI
The amfori BSCI is a leading initiative to improve working conditions in global supply chains. By signing the BSCI Code of Conduct we commit to work with our suppliers to improve the social and labor conditions in our factories.
More infos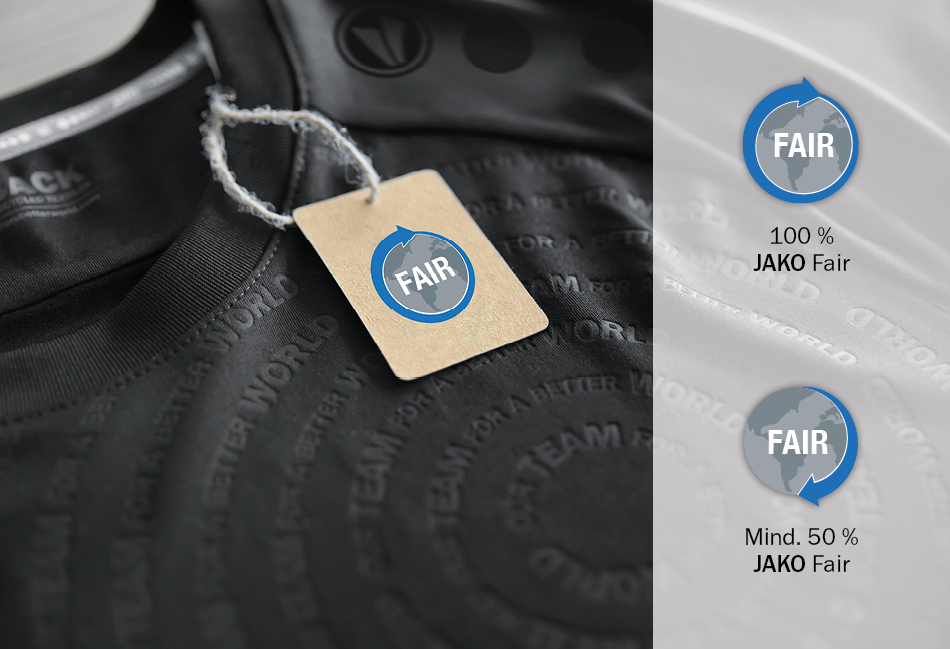 OUR JAKO FAIR LABEL
Fairness doesn't just play a role for us on the soccer pitch.
That's why we work together with our suppliers along the entire supply chain to make our team sports equipment even more fair and more ecologically sustainable. The JAKO FAIR label indicates which products comply to particularly high standards in terms of sustainability.

Therefore, we apply to strict criteria regarding to material selection. In addition, we ensure that packaging and factory selection are particularly environmentally friendly.

With our JAKO FAIR labels you can see whether the materials of this article are made of 100% or at least 50% recycled raw materials or organic cotton.
OUR UNDERSTANDING OF SUSTAINABILITY
Sustainability is much more than climate protection. It is also the responsible use of resources and the long-term corporate management as a family business and even more importantly for us: fair treatment of people.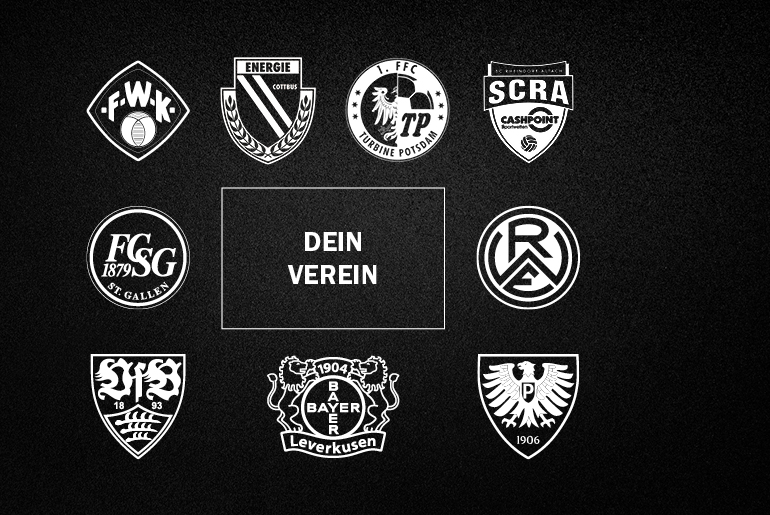 BECOME PART OF THE TEAM!
Tell us about your ideas and projects! Send us a message so we can make the world a better place together. Maybe we can learn something from you or publish your content on this page.
To the contact form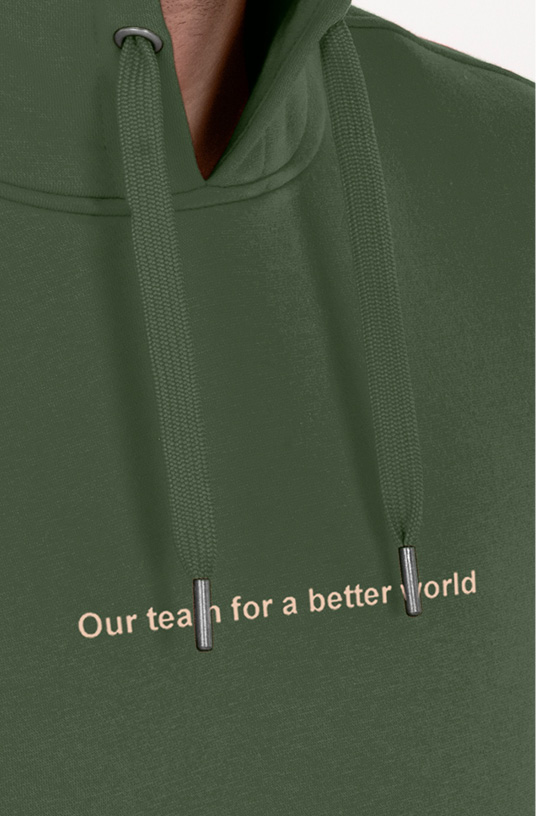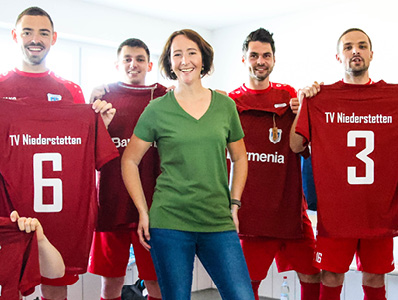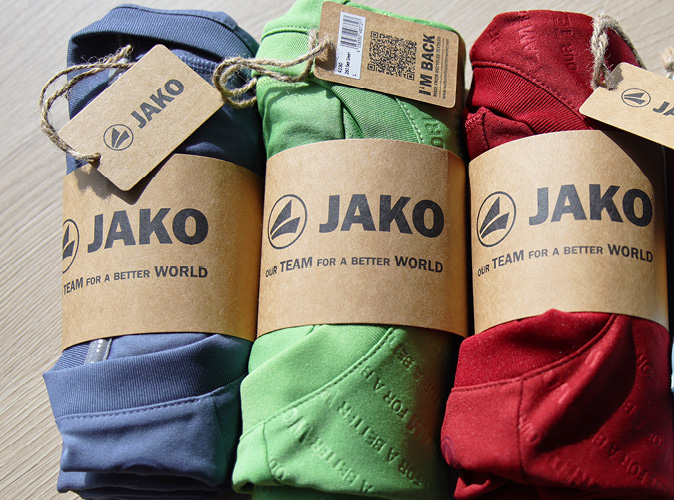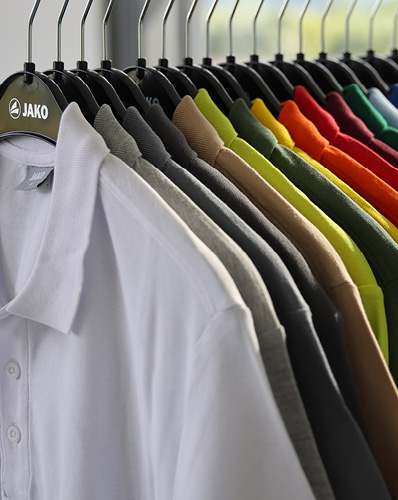 Recycled polyester and organic cotton: we are focusing on sustainable materials in the future.
To the products